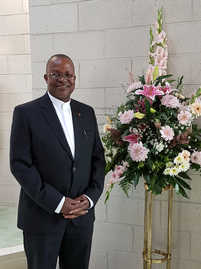 The diocesan changes announced by
Bishop Tom took place on Monday, 17th June.
Fr. Joseph Apust has been appointed as curate in Mornington.
Fr. Joseph is a native of the diocese of Minna in Nigeria and was ordained a priest there in the year 2000. Since then he has worked in parishes in Minna and served on the formation team of Good Shepherd Major Seminary in Kaduna. He was later appointed Rector of the St. Paul Spiritual year Seminary. At the request of his bishop, Fr. Joseph is currently pursuing further studies in Maynooth.
We welcome Fr. Joseph to the Diocese of Meath and particularly to our Parish and wish him many happy years among us.