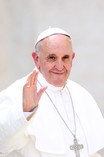 Peters Pence Collection
Special Collection "Peters Pence" to help Pope Francis with his work will be taken up at all masses this weekend 24 th/25 th June.
The Pope has the responsibility to look after the material needs of poor dioceses and of people in grave difficulties (the poor, children, the elderly, those marginalized and the victims of war or natural disasters around the world, etc.).
Please Support this special collection today.