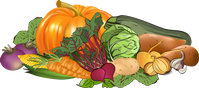 Harvest Festival:
We plan to celebrate our Annual Harvest Festival at the three Masses on the weekend of 29th/30th October.

We invite all the Community to participate and there will be a produce & cake sale after each Mass in the Parish Rooms.

All gifts / donations of home baking, jams, vegetables, fruit etc. welcome.
We especially need homemade breads, cakes, tarts etc.

Please let us know if you can bake bread/cakes or supply home grown produce. Your support will be much appreciated.

Your support is needed to make this festival a success.