Pope Francis is coming to Ireland in August. It is expected that he will attend a meeting with families on the evening of 25th August in Croke Park and that he will celebrate Mass on Sunday 26th August in the Phoenix Park.
It will be necessary to book a ticket to attend either or both events. As Croke Park has limited space, priority is being given to those who take part in other events that are being planned as part of the World Meeting of Families beginning at the RDS on 22nd August.

Registration for all WMOF2018
Individual pilgrims and families can now register for the main three-day WMOF2018 Congress from August 22nd – 24th, guaranteeing your ticket(s) for the Festival of Families on Saturday 25th August and for the Closing Mass on Sunday, 26th August. It is already possible to book tickets online on the official website www.worldmeeting2018.ie

Application forms to Register Your Interest as part of a Parish Group to attend

Meath Diocesan Day in the RDS 22 August


Festival of Families in Croke Park 25 August


Final Mass in Phoenix Park 26 August

are available in the as you leave the Church.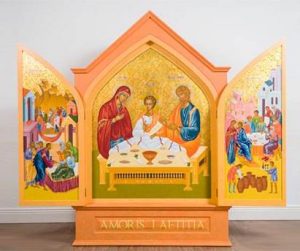 World Meeting of Families Icon in Meath Diocese
An open invitation is being extended to families around our parish to visit the Icon of the Holy Family in St. Mary's Church Navan parish from Tuesday 26 June - Friday 29 June. Details of the different ceremonies during these days will be published in next week's bulletin. Petition sheets will be made available next week for families and individuals in every parish so that they can write a prayer request for their family and leave their petition close to the Icon.