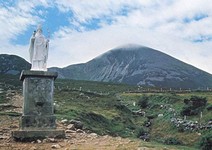 Reek Pilgrimage on Croagh Patrick to be four days per week in July

The annual Reek Sunday Pilgrimage on Croagh Patrick, which was cancelled last year due to the Covid-19 pandemic, will be going ahead this year albeit in a much extended format from Wednesday to Saturday, 1- 31 July.

For this year only, the Reek Pilgrimage is to be extended to four days per week for the month of July.
Wednesdays, Thursdays and Fridays, the Sacrament of Confession/Reconciliation will be available on the summit at 11:00am; Mass to be celebrated at 12:00pm

Saturday's Mass will be celebrated at 10:00am; Confessions at 11:00am.
The Masses will be limited to the numbers permitted for outdoor gatherings at that particular time, which currently apply to 100 people up to 4 July and 200 people from 5 July.

The Reek Pilgrimage normally takes place on the last Sunday in July, however the indulgence for the pilgrimage extends throughout the summer months up to the end of September.

This is the first time in the history of the pilgrimage that such an extended pilgrimage programme is offered in order to facilitate those wishing to fulfill the obligations of the pilgrimage on the mountain.

Details of how to fulfill the spiritual requirements of the pilgrimage are available on www.westportparish.ie and on signage in the carpark at the start of the ascent.

Priests with a Celebret or letter from their bishop or superior are both invited and welcome to take part in the pilgrimage, to celebrate Mass and hear Confessions, the commitment will be for three hours on the summit on a given day.

Priests who wish to participate in the Sacraments must contact Father Charlie McDonnell in advance on frchaz@me.com or +353 (0) 86 819 3884.

Pilgrims are asked to plan their trip to Croagh Patrick as early as possible and keep in mind that mid-week is traditionally a quieter time to climb.