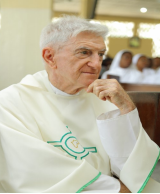 Fifty Years of Missionary Service !
Fr. Pat Corcoran, from Saint Mary's Villas, was born and raised among us. Educated by the Sisters of Mercy and Saint Joseph's Christian Brother Schools,
Pat went on, in 1963, to pursue his studies for the priesthood with Saint Patrick's Missionary Society, Kiltegan, Co.Wicklow. Fr. Pat was ordained to the priesthood, in Kiltegan, on Easter Sunday 1971, and presided over his First Mass at Saint Mary's on Easter Monday (Mornington was part of St. Mary's Parish at this time.). Saint Patrick's Parish, Ikot Ansa, Calabar, and the extended community, are joyfully celebrating Father Pat's 50th Anniversary of Ordination, and his lifetime of missionary service in Nigeria. Shortly, God willing, Pat plans to retire home to Drogheda. Pat is ever grateful for the grace of priesthood, and for the privilege and blessing of seeing tremendous growth and challenge in the young church of Nigeria - all of it made possible by the continued prayer and support of so many. All of us in Mornington wish Fr. Pat a healthy and happy retirement and look forward to his return to Drogheda shortly.